Skip to content
Dependable Bathroom Vanity Top Repair Services
Need to repair spider cracks in cultured marble sink? Trust your Tri-Cities, TN bathroom vanity top repair experts at Miraculous Makeovers! For immediate service, call us at (423) 612-4174
Click here to access our online specials page.
Find out why we are your go-to bathroom vanity top repair experts in Tri-Cities, TN and the surrounding areas by reading our latest customer reviews.
What Are Some Common Vanity Top Problems?
Vanity tops are always in use they store your everyday hygiene items so that they are available whenever you need them. like any over used surface, they can be prone to issues, which include:
Do you see how this vanity top is cracking around the drain? This is known as thermal shock cracks. We repair cracked vanity top with our acyrlic filler, a similar we use on tubs and fiberglass repairs.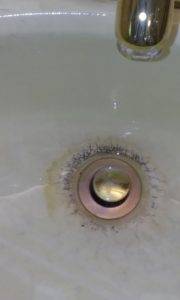 Most cracks in cultured marble vanity top sinks are known as thermal shock cracks and are the result of introducing extremely hot water into a cold vanity sink.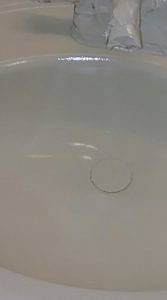 Our specialty lies in bathroom refinishing services. using trusted bathroom vanity top repair processes. We will get your vanity top looking and feeling like new again in no time. The majority of local cultured marble repair companies are utilizing auto body bondo fillers, causing your repairs to wash away down the drain. We use state of the art products to refinish your bathroom counter top and any repairs needed.
Do You Dream About A Beautiful New Vanity Top?
Have you always dreamed of having a beautiful granite vanity top? Then ask our experts that know how to fix a broken bathroom counter about how we can help you rejuvenate your existing vanity top to bring life into your expired bathroom.
Benefits Of Bathroom Vanity Top Repair
Working with certified bathroom vanity top repair experts to repair or update your vanity can go a long way towards extending the lifetime of your bathroom counter top. Not only will your like new vanity top be more reliable than it was previously, bathroom vanity top repair and vanity top refinishing will save you money over replacement costs.